4 Nigerian Celebrities Yemi Alade Has Allegedly Dated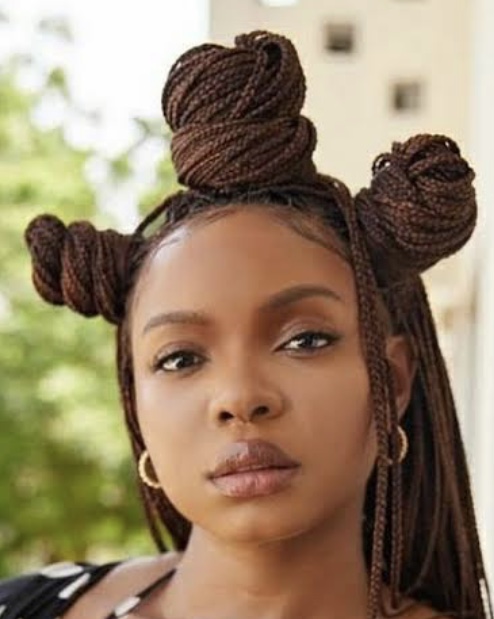 Yemi Alade famously known as Mama Africa is a force to be reckoned with in the Africa  music space but her relationship life is one that is almost non-existent to people.

We are certain that as gorgeous and as talented as she is, she has caught the eye of so many but unfortunately she is extremely private about her relationship life and she has never openly confirmed a relationship status with anyone.
Who is Yemi Alade?
Yemi Alade is a famous Nigerian Musician who rose to stardom after her hit single Johnny. She was born on the 13th of March, 1989 and is part Yoruba, part Igbo. Her father hails from Ondo State while her mother hails from Abuja State.
Although she has been very secretive about who she has been dating for the last several years, these 4 guys have been linked to her in the past when topics of relationships come up.
Yemi Alade And Alex Ekubo
Before Alex Ekubo became a a famous Nigerian Actor, he was once the first runner up in the 2010 Mr Nigeria Contest. He also played the part of the famous love interest of Yemi Alade in her music video "Johnny".
Their chemistry in the music video was so tangible which would perfectly explain why people still shipped them together after the release of the music video.
Their shipping for them to be together,  soon turned to a full blown speculation and naturally they both came out to address it.
Alex Ekubo denied that they were in a relationship of any sorts and described Yemi as being a breath of fresh air.
"she's young, creative and talented. Have you seen Yemi dance? I've been in two of her videos and she is my darling, a sweetheart and there are two things I don't talk about; they are my finance and my relationship".
He explained that they were both good friends and while she was a great woman, there was nothing that existed between them in terms of romance.
Yemi Alade also came out to say that while Alex Ekubo is a completely cool and loves or guy, they were not in a relationship. She however understood people's decision to ship them y because of their undeniable chemistry on thebJohnny music video.
In her own words, she said
"Alex is a very cool and lovable guy. He so cute and amazing, I believe that's why people actually think we are dating. I really appreciate the fact that he agreed to play Jonny in my music video. He has so much potentials. But me dating him, my dear I don't see that happening anytime soon," she insisted. What if proposes a relationship, do you mind dating him? 'I know know about that one oh. Maybe I'll check my calender and then have what to say, (laughs)."
The rumor was put to rest shortly after they openly addressed it and it seems that the pair were never more than just friends.
Yemi Alade And Patoranking
Yemi Alade and Patoranking sparked relationship rumors back in the last months of 2020 and early months of 2021. These rumors stated to make rounds when they both shared cute loved up pictures of themselves on their respective instagram pages. The pictures saw them rocking similar traditional outfit and it looked like they were both doing their traditional marriage. A majority of people were almost certain they had taken the secret route of private celebrity marriages and were actually a couple.
However, they did not address or debunk the rumors and a couple of weeks later we would know why it was never addressed.
It turns out the pictures were all for a music video shoot for a song collaboration they both did together called "Temptation". In the music video, they both played each other's individual love interest.
While it might have all been for a music video scene, insider sources revealed that Patoranking and Yemi Alade were in the beginning period of a new relationship and there seemed to be a lot more going on in private than what they had shown the public.
There were some revelations that they had both been seen each other secretly for a while and that there was a possibility it could graduate into more. However, they both wanted to keep it as private as possible. Right after the release of their music video however, the rumors soon started dying off and since they never addressed it, people soon forgot about it.
Yemi Alade and Flavor
Yemi Alade bravely admitted during an interview In  Sound City that she has a crush on Flavor. She revealed that this is a crush she had carried for long time and that since her early days as an entertainer, she had always had a thing for flavor.
In her own words;
"Yes! I have a crush, just like other normal human being. I used to crush on Flavour so much. I had so many things concocted in my head but that is in the past now. I have stopped crushing on him…"
This was a harmless crush or at least that was what it seemed like from an outsider's point of view. Flavor never publicly addressed her crush reveal openly and they did not pursue or explore a romantic relationship with each other.
Yemi Alade and Phyno
Yemi Alade also once again opened up about  having a crush another famous Nigerian Artist. This time around, it was the famous Nigerian Igbo rapper, Phyno.
This revelation was done during the MTV base real talk show. When she was asked about exploring a serious relationship with Phyno, this is what she had to say
"Well, as the mama tangerine, if the household tangerine would love that, then yes I would".
Phyno almost a year later after this broke out also revealed that he would like to date her and that the feeling was completely mutual.
We don't know for  certain if anything genuinely serious happened between the both of them but there were some rumors that they had dated briefly and that it had been super private and intimate.
Yemi Alade is flourishing in every aspect of her life and we are certain that when it's time for love to find her, (if it isn't already found her) that it would be worth it and a completely beautiful one.