Nobody – Joeboy ft Dj Neptune & Mr Eazi; Love Is Patient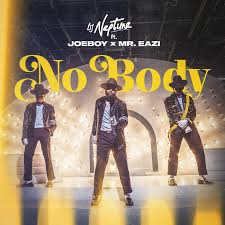 Joeboy, Mr. Eazi, and Dj Neptune came up together to release a melodious hit titled " Nobody".This song talks about a girl that her guy would give her anything she wants to prove his love to her, telling her not to move around with another guy that it makes him feel uncomfortable, love comes with truth and patience.
DJ Neptune Award-winning international disc jockey and producer, teams up with emPawa's Mr. Eazi and Joeboy on his new single titled "NOBODY". Featuring this triple threat of talent, the atmospheric record was produced by Neptune Records' in-house producer Magic Sticks.
Greatness
Dj Neptune
Joeboy pon deck
Nkàn to ba fé, lo ma get sè kó ma lò bè (a wó)
Body on check check check
Atarò dò òmò you dey pepper dem a ah
Toyin tomato causing gobé o
Lepa jó pé pé ré pé jo wo ma sé me le sé ye
I don't wanna hear say
I don't wanna hear say you dey with another man
The wey your body rotate
I no go like am if I see you with another man
I don't wanna hear say
I don't wanna hear say you dey with another man
The wey your body rotate
I don't wanna see you with
Nobody, nobody, nobody, nobody
LISTEN AND DOWNLOAD "NOBODY" BY JOEBOY FT DJ NEPTUNE;