Mr Eazi and Temi Otedola's Love Story, Engagement and 10 Things You Don't Know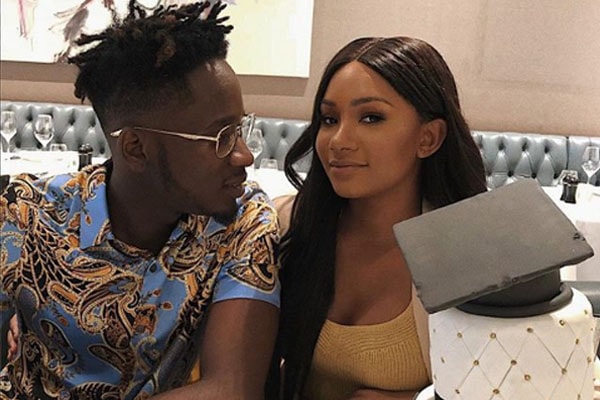 This is a story about of Mr Eazi and Temi Otedola's Love Story, their Engagement and 10 other things you don't know about the couple.
Love is a beautiful thing is a phrase that Temi Otedola and Oluwatosin Oluwole Ajibade popularly known as Mr Eazi has solidified and confirmed. Even if you are already in love, their love can make you question the validity of your own love life.
These two make love look so good. They wear it like a bride wears her wedding gown; like a groom wears the suit and like a Yoruba woman adorns her gele. It is no wonder when news filtered in that they will both be getting married soon as a proposal was made and a YES was said. And for us at LoveLife.ng, we are here for it.
In case you don't understand all this grammar, we are too excited to speak proper English, pardon us, Mr Eazi proposed to Temi Otedola and she said YES. As of today, April 10, 2022, they are now engaged and planning to be married.
Don't take our word for it, see the lovely proposal in a secret venue that took place as continue our expose on Mr Eazi and Temi Otedola's Love Story. 
In congratulating them, popularly DJ, DJ Cuppy who happens to be Temi Otedola's sister took to her social media handle to congratulate the couple, welcoming Eazi to the family while also asking her followers to suggest hashtags for the wedding. No doubt this will be a Talk of the Town Wedding where the entertainment world would meet the billionaires.
But just before we go on and on about this, in this video we will be sharing with you a never-before-told love story of Mr Eazi and Temi Otedola, how they met, what they have been through and many more things you don't know about their individual lives.
DJ Cuppy Introduced the Couple
In an interview, DJ Cuppy who is the senior sister to Temi Otedola revealed how she introduced Mr Eazi to her sister after she had mentioned her fondness for him. Being in the entertainment industry herself, it was easy to connect Mr Eazi with Temi and the duo kicked it off almost immediately. It was as though they had both been waiting for the opportunity.
In the podcast titled, 'How far with Mr Eazi and Temi', Temi revealed that Cuppy introduced her to the singer and they began dating from then.
"I can never forget the only thing (Dj Cuppy) said," Temi began.
"Those first weeks we were dating, she had obviously introduced us and she was there and she was still cultivating a working relationship with you (Mr Eazi).
"And so, she calls me and said 'so you guys are dating officially and I said, yes, I like him and she said, all I am going to say is that if things don't work well with you both, I am going to maintain my work relationship with him (Mr Eazi)' and she was straight up about it."
Mr Eazi Was Late to His First Meeting with Femi Otedola, Temi's father
In the same podcast, Mr Eazi spoke about his experience meeting Femi Otedola for the first time and how despite trying to meet up, he was late and went with pink hair. He said this:
" remember meeting your (Temi) dad, I think my hair was pink or purple and to be honest, I only had tracksuits and we were going somewhere to have dinner, so I remember I got like pants and a shirt and I had this Gucci shoes and I probably never wore them after that day."

 thought it was like a big deal and I think that was one of the few times I respected dress codes in restaurants and not just piss people off because I wanted it to be cool. I think I was there a little bit late and your (Temi) dad mentioned something like that saying I am the superstar."
Temi Otedola Started Acting After She Started Dating Mr Eazi
After debuting her first movie role in Kunle Afolayan's blockbuster, Citation, Temi revealed how she got the role and got her first acting gig. She has since started work on multiple movie projects that will soon be hitting the screens.
"I've been watching Mr. Afolayan films for forever; from Figurine to October 1, to Phone Swap. When I was actually introduced to him, I told him that I acted throughout my years in school; acting is actually my first passion in life. And he told me that a movie is coming out and that the lead character is a girl of my age, who is a university student."
She continued: "The storyline is something relatable and relevant to what's happening today, not only in Nigeria, but all over the world. So, it's a story that's close to my heart. I felt I could really bring that character to life. On why she's kept the creative side of her from the public for so long, she said, "for me, it's all about timing, so, for me until this movie had come, I don't think I would have entered into this arena of creative work, but this script is perfect for me. I'm so happy that I waited for this time. With Kunle Afolayan film, it means I am starting at the top. So, I'm just so humbled to have been given this opportunity.
Temi and Mr Eazi Have Been Dating for Four Years
Some reports have it that the couple dated for about six years but we can confirm that the couple dated for over four years before they finally decided to walk down the altar. In the course of the relationship, various things happened and some we will reveal in this story.
Mr Eazi was drunk on their first official date.
Although Mr Eazi is known not to be a heavy drinker, he engages wine from time to time now. However, on his first official date with Temi Otedola, the singer took several shots of a strong drink which got him drunk and became a little mess. Thankfully, Temi was there to care for and nurture him to consciousness as the singer confirmed that his girlfriend put him in an Uber and took care of him that day.
Mr Eazi and Temi Otedola's love story sounds like love at first site.
Temi's Biggest Birthday Presents for Her Beau
During one of their podcast episode, the couple shared some of the most memorable presents they have gifted each other.
On the morning of Mr Eazi's birthday, while walking on a beach in Miami, Temi got a whole plane to fly past them with a message that read 'Happy birthday Tosin' which is MR Razi's real name. She also wrote 365 love notes for him.
For Temi, Mr Eazi bought her a custom painting from her favourite artist. "An iconic present," Temi called it.
The COVID19 Lockdown Brought Them Closer
Being a successful and in-demand musician, Mr Eazi had a lot of travel and engagement that puts a strain on their relationship. The couple had coped regardless however when the COVID19 lockdown happened, it gave the couple lots of time to spend together and this brought them closer than ever before. 
The lockdown forced them to stay together in Temi Otedola's London flat. Before the lockdown the most time they had spent together was two weeks.
Mr Eazi pays for all the dates
Despite Temi being the daughter of a billionaire who can sponsor a man if she so desire, the couple confirmed that Mr Eazi pays for all their dates. In an episode of the podcast, the couple confirmed that Mr Eazi pays for their dates while Temi is responsible for planning everything.
On the other hand, Temi has no problem paying for dates because she doesn't believe in the social construct around the gender roles that put it upon the man to pay for dates, but Mr Eazi does not care about all that. He believes that men should be paying for dates and advised men to always do so in their relationships.
In the podcast, he jokingly said "I have to make my ancestors proud,".
Mr Eazi Was Born in 1991
Mr Eazi is a Ghanian-Nigeria Singer with global acclaim. In case you don't know who Mr Eazi is, he is one of the top musicians from Africa who hails from both Nigeria and Ghana. He has sold multiple records and is constantly in the top 5 highest selling artist from Africa.
Born in 1991, Mr Eazi is a pioneer of Banku Music, a fusion of sound he describes as a mixture of Ghanaian highlife and Nigerian chord progressions and patterns.
Although born in PortHacourt, River State, Nigeria, Mr Eazi relocated to Kumasi, Ghana in 2008 and enrolled at KNUST, where he began booking artists to perform at college parties. He showed interest in music after recording a guest verse on "My Life", a song that gained traction and became a popular record at KNUST. Mr Eazi released his debut mixtape About to Blow in July 2013. He gained an international audience following the release of the Efya-assisted single "Skin Tight". His second mixtape Life Is Eazi, Vol. 1 – Accra To Lagos was released on 10 February 2017. He was at one time signed to Wizkid's Starboy Records label.
Temi Was Born in 1996
Temi Otedola was born on 20th March 1996. Studied Art History at University College London, University of London. Temi started a fashion blog called JTO Fashion in December 2014. She documents fashion, beauty, art, and travel experiences. 
In 2020, she made her Nollywood debut with Kunle Afolayan's Citation movie. Her lead role on Citation, earned her an award at Ghana Movie Awards for Best Actress, and was nominated for Revelation of the Year at Best of Nollywood Awards 2020.
She is the last daughter of Nigerian billionaire, Femi Otedola and a younger sister to DJ Cuppy and Tolani. She is in a relationship with Nigerian singer, Mr Eazi with whom she has a podcast named How Far with Mr. Eazi and Temi.
Conclusion
If there is anything Mr Eazi and Temi Otedola's love story has shown us, it is that love can thrive regardless of background, differences, circumstances and situations as long as the two people involved are truly ready to make it work. Also, they have shown us that love can be beautiful, it doesn't have to be hard for it to make sense.
From all of us at Love Life TV, congratulations to the couple.