From Friends To Lovers And Everything Between. (A story of Mo Bimpe and Lateef Adedimeji)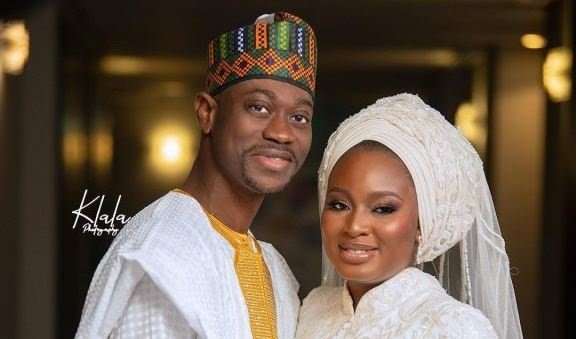 The rumours of Adetola Adedimeji Lateef and Oyebade Mo Bimpe being more than friends started in 2019 after they acted as lovers in the movie, 'Adebimpe Omo Oba.' In 2020 the couples were seen wearing matching outfits and they boldly denied any relationship, stating that the outfits were advertisements for Adebimpe's clothing brand.
   These two love birds started as just colleagues then as friends, then lovers. They worked on different movie sets together and Lateef said that they both never saw the relationship coming. 
"It was not something that we both saw coming. One day, after a lot of back and forth, we sat down and said to ourselves we could make this work if we put our hearts together and show more commitment and love to each other; then we realised that we could not even do away from each other. So, the journey started and we are here today."
Although there were speculations that they had been dating way back because of how close they were, Lateef confirmed while speaking with Tribune that they only started dating in March 2021, and before then, they were just close friends. He also said that one of the things that attracted him to Mo Bimpe was that there was understanding in their friendship and they also respected what they shared. In case you don't know this couple, I'll be glad to introduce them.
WHO IS MO BIMPE?
   Adebimpe Oyebade is a Nigerian movie actress, model, writer, entrepreneur, social media influencer and media personality. She was born on the 23rd of March,1994. She's originally from a Royal family in Ijero, Ekiti state and that's the significance of 'Ade' in her name which means Crown.
WHO IS LATEEF ADEDIMEJI?
  Adetola Lateef Adedimeji is a Nigerian actor, screenwriter, brand ambassador and filmmaker. He was born on the 1st of February, 1986 in Isolo, Lagos. He hails from Abeokuta, Ogun state.
Mo Bimpe and Lateef have both had past relationships but they still found their way to each other. In November 2021, just before their marriage, the alleged US lover of Bimpe was said to have been shocked to see her wedding invitation online on the controversial gossip blog page, Gistlover. The lover who was identified as Tunde lamented on how he has invested in her, how he got her an apartment and cars, which he saw Lateef driving. His friends said  all of this in a conversation between themselves. He rained curses at her saying 'My head will judge you.'
Mo Bimpe herself also denied the fact that she and Lateef were in a relationship. She said in an interview with 'Celebrity diary' that Lateef was not her type and she was not attracted to him sexually. This was up until Gistlover posted their wedding invitation.
"The problem started with the fans, they call us 'Momma and Zaddy'. A lot of fans like us together; they want us to be together. He is a good man, I already see him as a family. I won't want to be with someone I see as a family. Nothing can ever happen between us because I cannot marry someone in the spotlight". I would say no to Lateef if he asks me out because he is my friend and I already see him as a brother. He is not my type", she said.
  Lateef was not left out in this drama. His ex-girlfriend, Amaka joined Tunde to rain curses on Mo Bimpe saying he dumped her for Bimpe. She interrupted his live video on Instagram and also insisted that she needed to speak to his mother and he was quite embarrassed because a lot of people were on the live and she brought a private matter.  
There were also rumours in 2018 that Lateef had a child with the US-based Yoruba actress, Oyinkansola Elebuibon. However, the actress herself debunked it stating that they had no child nor did they have a relationship. They also rumoured that he had a first wife but they were confirmed as untrue same as his relationship with the award-winning actress from Ekiti, Bukunmi Oluwashina. People had said that they were in a relationship but they confirmed it to be untrue and said it was a picture from a movie set.
After dating for over 8 months, the duo decided to tie the knot on the 18th and 22nd of December, 2021 and they have been living in peace since then.
  In an interview with 'Saturday beats' Mo Bimpe said that marrying Lateef has made her life more beautiful. She also encouraged ladies to go for a supportive partner so there can be understanding in the home. She said, "Marriage is a beautiful thing and it should not harm one's career."
On Lateef's birthday which was on the 1st of February, she surprised him by getting a popular surprise team, Royal hugs to storm their house by 12 am. They also came in with Muslim clerics who prayed for him. He was so emotional at the amount of love his wife had shown him. Later that day, she organised a surprise party for him in their home. The party had other Nollywood stars like Wole Arole, Eniola Ajao and many others.
On the 23rd of March, Lateef did not hesitate to shower his wife with love and surprises on her special day. He celebrated her on his Instagram and wrote: 
"It's how you make me play like a baby for me. You sure know how to make me play like Mumu. It's your birthday my love, May Allah never forsake you. You are so beautiful in and out and I thank Allah every day for you.
I just want to tell you today again that I gat you and will always be here. Again to forever joy and happiness unlimited my love. Happy birthday my wife, my mother, my daughter, my baby, my obim ❤️❤️❤️❤️"

He also brought a saxophonist to serenade his wife with beautiful tunes. He shared pictures on his page of a lovely small party in their beautiful home, yummy delicacies and cakes were sighted. All Mo Bimpe had to do that day was nothing. She just had to sit and allow her husband to take care of her.
Even though the couple can be categorised as newlyweds, you can say that they started on the right foot. They understand each other and they love themselves so dearly.
Marry someone who understands you and who will treat you as good as you treat them. Don't give your all when the person is not even making an effort. Remember the saying, 'there are many fishes in the river.' There's no such thing as, 'There's a special someone for each person and once you leave the person you can never find another.' 
You'll definitely find another, never settle for less and also Love the way you want to be loved.