Yul Edochie Gives Reasons On Why He Married A Second Wife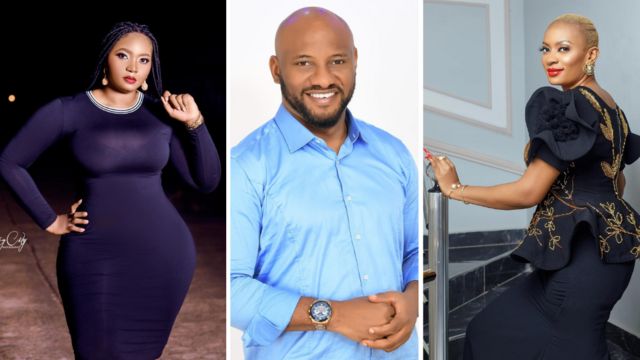 The popular Actor, Yul Edochie trended on Social media from late April till almost throughout May after announcing his second wife Judy Austin and son, Star. He stated that he used to be among one of the people that believed in loving only one woman until he met his second wife. Recall that his first wife, May Edochie never knew about it as she only found out on social media when he posted the new wife and his son. In an already deleted comment, she wrote, 'May God Judge You Both'
He said it's possible to love two different women at the same time and equally, especially if the two are bringing two different things to the table. He said,
"They reason in different ways they contribute differently to your life. And you just realize that that just the way it is."
He said all this in a video, explaining the reasons why he took a second wife. 
"I've heard it a couple of times and I'm one of those people who believed it before. And I know a lot of people still believe it as well that a man cannot love two women. I used to believe it as well until it happened to me. I realised that "Never say never". No matter how old you are in this world. We are all young, we're still learning. Things can happen, you learn certain things."

"At this point in my life, this is my opinion. I'm entitled to my opinion. My opinion may be wrong to you but it's my opinion."
He goes on further to say that when people make so much impact in your life, it will be too hard for you to let them go. He admitted that it was wrong for him to allow a single woman to be that close to him to make an impact on him as he says. He justified his mistakes by saying that it happens daily. He went ahead to praise both wives like he usually does. He said,
"Make no mistakes about it, these are very wonderful women in their own respective rights. They bring different things to the table. Yes, you can actually love two women at the same time."
He mentioned that he has many more reasons but this was the major one and he may also decide to bring out more but this was it for now. He concluded his speech by thanking his family and fans for showing concern. He assured them that he and his family were doing fine. 
Real love should come with contentment. You always see someone better than your partner and that's the honest truth. Nobody is like your wife, everybody brings different things to the table. If you are to marry because of they bring different things then you'll be marrying almost everybody you meet. I'll stop here!