Iyabo Ojo Curses Blogger who says Her Daughter Is Dating The Nigerian Singer, Kizz Daniel.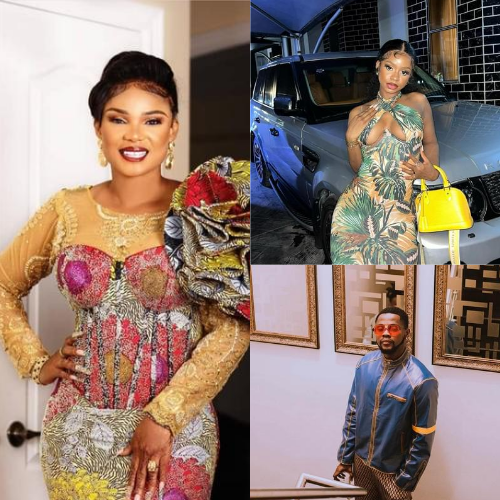 About 2 days ago, a video sparked on the internet showing Kizz Daniel the talented Nigerian singer with the young Influencer and entrepreneur, Priscilla Ojo, the daughter of the Nigerian actress, Iyabo Ojo, in London together. This video was posted by the gossip blog page @cutie_julss on Instagram.
Priscilla was in Dubai for vacation and Kizz Daniel was in the UK for his music tour in Manchester.
The blogger, cutie_julss claimed that Priscilla came into his booked apartment and was with him all through. She also accompanied him to his show in his Bentley.
Recall that Priscilla was one time rumoured to be dating other musicians like Lil Kesh and
 Korede Bello.
Now it has been moved to Kizz Daniel. Some fans do not agree with the speculations, as they say, people should learn to stop jumping to conclusions. Some fans wrote;
Kevkenris "She is an influencer, hardworking daughter and they pay her so well….na lie go kpai all of una for this IG."

Naaomi247 "I hope Priscy knows what she's doing? Kiss Daniel that is stingy, she should go and ask Chidinma how far! That's why Chidinma japa from him o! Priscy should better shine her eyes o!"
The blogger wrote on the page;
"Kizz Daniel got in on Tuesday, and Priscilla flew in from Dubai. Went to Kizz Daniel's booked apartment and they've been there together since Kizz went to Manchester for his show. Still followed him o. Even on the night of Kizz Daniel's show, Priscilla came in the Bentley with Kizz Daniel. In the morning was a very beautiful good morning greeting by Priscilla from Kizz's balcony" 
Her mother, Iyabo Ojo reacted by commenting on the comment section of the blogger's post with curses. She wrote: 
"Whoever wrote & sent this post oni fi owo yen se owun re re mo….. ogun i la ra lo ma ba ti e je……..shonponu lo mo pa e wo ati iyalaya e pelu baba nla baba e danu, ogun la fi e je re we, gbogbo awon ti won ba fe gbe ogun ti awon omo temi, Iyabo Ojo …………………….. e ma so fo e mi danu, ase gun …. e kere si number wa ….. elo po si wa eti po to"
The English translation;
"You won't use your hands to do good things. The god of thunder will destroy you. May the gods kill you and your generations; god of iron will bath with your blood, to everyone that wants to wage war against my children, Iyabo Ojo….. May you be amongst the losers, amen to that. You are no match for me, go back and get reinforcements."
Iyabo Ojo is known for speaking up and trashing anyone who comes after her daughter.