Peruzzi Southy Love ft Fireboy DML; Sacrifices Matter In All Relationships.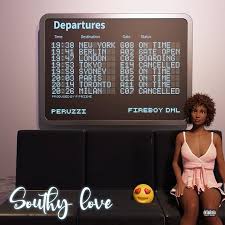 Ahead of the release of his highly anticipated album (Rum & Boogie) Peruzzi drops new music titled "Southy Love" featuring Fireboy DML.
Southy Love ft Fireboy is a record talks about doing the most just to see your love and be with him or her, catching a late flight or connecting one to reach her destination. It encourages lovers to do the most for Love and Pop, stay happy. Everyone deserves to be loved and cared for cause love is not just a feeling, commitment, and above all a sacrifice.
The DMW's vibe machine, melody creator teams up with YBNL's Golden lover boy and it's a Bang! This record is a World tune, a combination of Afropop, R'n'B, and Amapiano produced by P.Priime (Giddem!). Get ready to lose it cos this tune is Heavy and Addictive!!! "Southy Love" is a follow-up to Peru's last release – 'Isolova' which still trending and buzzing on music fans' playlists and major streaming platforms.
"Giddem!
[Verse 1 – Fireboy]
Girl i wan see you tonight
I would catch the flight and come see you tonight
E oouu Girl i wan see you tonight!
I would catch flight to come see you tonight
Cos this distance is killing me for sure
So give me kpomo
Give me meat on top
I want this your love oo
Let's say for instance
I'll do anything for love
Anything at all
You feeling this or not
Make I know wassup oo
Giddem!
[Pre-Chorus]
I go take flight and I will fly to you
As you dey waste time"
DOWNLOAD "SOUTHY LOVE" BY PERUZZI FT FIREBOY DML;