Taylor Swift and Travis Kelce: A New Celebrity Romance Blossoming in the Spotlight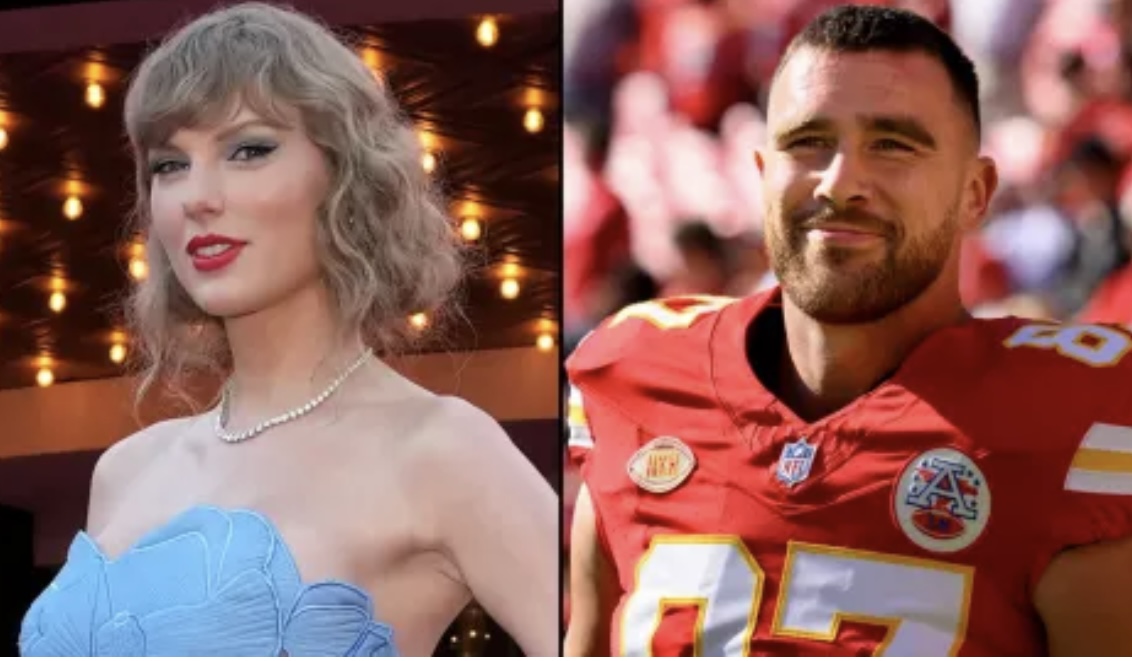 The world of celebrity romances often captures the imagination of fans and media alike. The recent relationship between global pop icon Taylor Swift and NFL star Travis Kelce is no exception. This union, a blend of music and sports celebrity power, has quickly become one of the most talked-about developments in the entertainment industry in 2023.
**Early Rumblings of Romance**
The first hints of a possible connection between Taylor Swift and Travis Kelce emerged around September 2023, when Swift was spotted at a Kansas City Chiefs game. This public appearance, seemingly innocuous at first, was the first clue to a budding romance. The sighting at Arrowhead Stadium, the home ground of the Chiefs, was an unusual setting for Swift, known more for her musical tours and red-carpet appearances than football games. This appearance sparked initial rumors and speculation about a potential link between the pop star and the NFL tight end.
**Travis Kelce's Early Interest in Taylor Swift**
Adding to the early whispers of a possible relationship, Travis Kelce later revealed on his podcast, "New Heights," a significant detail that predated their public linkage. In an episode aired in July 2023, Kelce recounted his wish to give Swift his phone number after a show. This disclosure provided a glimpse into Kelce's initial interest in Swift, suggesting that the roots of their relationship might have extended further back than the public knew. Kelce's candid admission on his podcast gave fans an insight into the personal feelings and behind-the-scenes interactions that often precede public celebrity relationships.
**Public Confirmation of the Relationship**
The relationship took a definitive turn in October 2023. Taylor Swift and Travis Kelce were seen engaging in a public display of affection, marking their first official appearance as a couple. They were spotted holding hands, a classic and unmistakable gesture of romantic connection. This moment of intimacy, captured and circulated in the media, confirmed their relationship status to the public. It was a significant step for both celebrities, known for their respective private lives and seldom shared personal details.
**Deepening of the Relationship**
As the weeks passed, reports indicated that the relationship between Swift and Kelce was evolving into something more profound than a casual fling. Sources close to the couple suggested that their connection was growing stronger, indicating a serious and committed relationship. This development was noteworthy, considering both celebrities' high-profile status and the intense media scrutiny that often accompanies such pairings.
Joe Jonas And Taylor Swift – New Facts Emerge After Their Breakup 15 Years Ago
Why Did Taylor Swift And Joe Alwyn Breakup? What We Know!
All The 10 Men Taylor Swift Has Dated
**The Media Spotlight and Fan Reactions**
The union of Taylor Swift and Travis Kelce quickly became a focal point of media attention. Both Swift and Kelce have substantial fan bases and public profiles. Swift, one of the world's most popular and influential pop stars, and Kelce, a leading figure in American football, brought together a diverse and widespread audience interested in their personal lives. This relationship not only sparked interest among their fans but also attracted attention from a broader audience.
**Taylor Swift: A Music Icon**
Taylor Swift's journey from a country music star to a global pop icon has been marked by immense success and public interest. Her music career, spanning various genres and themes, has garnered her a massive fan base and critical acclaim. Swift is known for her narrative songwriting, often inspired by her personal experiences, which has led to widespread speculation and interest in her romantic life. Her previous relationships have often been the subject of media attention and public discussion, making her new relationship with Kelce another chapter in her highly scrutinized personal life.
**Travis Kelce: An NFL Star**
Travis Kelce, known for his charisma and talent on the football field, has been a prominent figure in the NFL. Playing for the Kansas City Chiefs, Kelce has established himself as one of the top tight ends in the league. His on-field achievements and off-field personality have made him a popular figure in sports. His entry into a high-profile relationship with Swift has added another dimension to his public persona, merging the worlds of sports and entertainment.
**The Intersection of Music and Sports**
The relationship between Taylor Swift and Travis Kelce represents a fascinating intersection of the music and sports worlds. Such cross-industry relationships often generate significant interest, highlighting the connections and similarities between different realms of celebrity culture. This romance underscores how individuals from seemingly disparate professional backgrounds can come together, bridging the gap between different sectors of the entertainment industry.
**Looking Ahead**
As Taylor Swift and Travis Kelce continue their relationship, it remains a subject of fascination and discussion. How the couple navigates their high-profile statuses, busy careers, and the inevitable media attention will be of interest to their fans and the public. Whether their relationship remains private or becomes more public, it is clear that this pairing has already left a significant imprint on celebrity culture in 2023.
In conclusion, the relationship between Taylor Swift and Travis Kelce is more than just a celebrity romance; it is a reflection of the growing interconnectedness of different entertainment spheres. As they continue their journey together, they not only share a