Single's Club: Tonto Dikeh, Mercy Aigbe, Yvonne Jegede And Other Top Nollywood Actresses Feature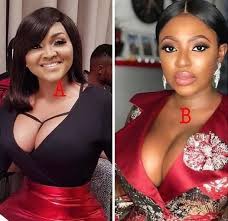 Social media has shown us how hard it is to sustain relationships these days. As a matter of fact, social media is one of the major causes of divorce and relationship preblems in Nigeria especially amongst our internet stars and celebrities. This is not our concentration today though.
In this article, I will be sharing with you some Nollywood celebrities and top actresses whose relationships have taken a turn, some due to social media showoffs, cheating rumors and other factors. While some of you would consider it good news that these on-screen divas are single again, that's not the focus of this article.
TONTO DIKEH
Tonto Dikeh, the 36 year old actress, singer and media personality, makes the news almost every week with her juicy lifestyle. Back in July, Tonto Dikeh and her anti-corruption activist lover, Prince kporikpogri, reportedly parted ways. This is comes four years after her marriage with Churchill Olakunle had ended.  The relationship with Churchill ended very publicly with many unprintable things being said about each other in bed including Tonto Dikeh revealing to press that Churchill wasn't good in bed.
The relationship with Prince Kporikpogri ended after a voice note was brought to light which involved Kporikpogri and a socialite and a lot of complaints about Tonto Dikeh's lifestyle. Kporikpogri added that their three months relationship was more a less a living hell.
It is said that 'relationships end too soon because people stop putting in the same effort to keep you that they put in to win you'
MERCY AIGBE
Another interesting Case is Mercy Aigbe, the 28 year old  Nigerian actress, director, fashionista and businesswoman who is popular for her roles in  Yoruba indigenous movies.
After her first marriage ended due to the interference of her mother in law. Mercy Aigbe in 2013, married a Nigerian hotelier, Lanre Gentry, and has two children and three stepdaughters.  She consequently separated from her husband due to claims of domestic violence with some pictures as proof and started a campaign against domestic violence. She was in tears explaining that many times she would forgive him after any of his 'episodes'.
Perhaps, in this case 'it was much easier to explain the veil than to answer question about the wounds'
DAMILOLA ADEGBITE
Damilola Adegbite is a 36 year old  Nigerian actress, Model, and Television personality. She played Thelema Duke in the soap opera Tinsel, and Kemi Williams in the movie Flower Girl. She won Best Actress in a TV Series at the 2011 Nigeria Entertainment Awards. In August 2014, Adegbite got engaged to Chris Attoh, a fellow actor she met on set of the soap opera Tinsel. In September 2017, news broke that Adegbite's marriage to husband Chris Attoh had crashed. Adegbite had sparked split rumours after she deleted Chris Attoh's surname from her social-media accounts. She also unfollowed him on Instagram, deleted all photos of him from her social media account. Hours later, in an interview, Chris Attoh confirmed his marriage to Damilola Adegbite was over.
" There is no challenge strong enough to destroy your marriage as long as you are both willing to stop fighting against each other, and start fighting for each other. " -Dave Willis
YVONNE JEGEDE
Yvonne Jegede is a Nigerian actress, film producer, model, and television personality; notable for producing 3 is Company. She rose to prominence after she made a cameo appearance in the music video African Queen by 2Face Idibia.
Jegede's marriage to Abounce who is a rapper turned actor hit the rocks in 2019. Yvonne Jegede confirmed during an interview that they are 'no longer living together and have gone their separate ways'.
In a recent post on social media following her birthday, she wrote the following:
"The last few years have been such an experience, I've had the high, the low, the incredible and the not so incredible. I've been hurt and I have hurt people as well but after my last birthday few days ago, I decided to totally let go of the past and earnest the opportunity in the present and reach out to the future to create a better story for myself and my family.
To this end, I am reaching out to all my Ex-es, the one I wouldn't talk to or work with anymore, to say-I have forgiven you and I am also apologizing to those I have hurt because in relationships, it takes two(2) to tangle so I am also sorry.
To my Ex-husband, it is nothing but love, peace and mutual respect. The past is past, it didn't work out, we should move on.
To business associates and friends turn strangers, for the moment I hurt you, I am deeply sorry. To those I felt hurt me, I have also forgiven. Let us work together again, let's be cool again even if we are not best of friends.
To my fans, thank you for standing by this Choco Girl and to the whole wide world, I am starting afresh, please join me in this new journey."
"Apologizing does not mean that you're wrong and the other person is right. It just means that you value your relationship more than your ego."
KATE HENSHAW
Kate Henshaw, is 50 year old professional Nigerian actress. In 2008 she won the Africa Movie Academy Award for Best Actress in a Leading Role for her performance in the movie "Stronger than Pain"
Kate Henshaw married British-born Roderick James Nuttal in 1999, and have one child together. Henshaw and Nuttal divorced in 2011. Her marriage used to be one of the longest celebrity marriages in Nigeria before Kate's suspicion was confirmed of her husband's infidelity. As of 2021, Kate is not dating anyone.
"Whether it is a friendship or a relationship, all bonds are built on trust. Without it, you have nothing."
TOKE MAKINWA
Toke is a 35 year old Nigerian radio personality, television host, vlogger, lifestyle entrepreneur and author. Toke is known for hosting The Morning Drive on Rhythm 93.7 FM and for her YouTube vlog series Toke Moments.
On 15 January 2014, Makinwa married Maje Ayida, whom she had been involved with for eight years. In 2015, she separated from Ayida after discovering that he had impregnated his ex-girlfriend. On 5 October 2017, Makinwa's marriage to Ayida was dissolved by a Lagos High Court on the grounds that Ayida committed adultery.
"The moment you start to wonder if you deserve better, you do."
IN CONCLUSION
These queens are all the proof we need to show you that you don't need a partner or need to be in a relationship to have all the success you want and deserve. In many cases, a partner might actually be the one who drags you back.
With the various reasons why each relationship ended ranging from understandable to confusing, some might even wonder if these couples truly had love before getting married. This is why this article has been written. As actresses, it may be believed that they needed to be in relationships with influential or wealthy men to be relevant in the industry but in the case of each of these women, the men in their life barely played a role in the success of their career.
Relationships are good and we encourage them and that is why we give advice so you go about it the best way but if you're unsure, then it's probably a sign that you're not ready for a committed relationship.
In conclusion, focus on what makes you happy and if a relationship doesn't hinder your happiness, go for it. If it does, then it's best you stay away. The most important thing is the pursuit of happiness.