MS DSF and Skiibii Might Just Be The Newest Couple In Town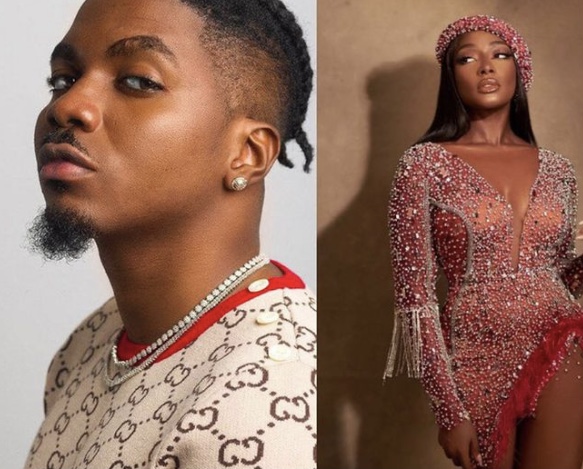 Skibi and actress Dorcas Fapson are currently sparking relationship rumors.
This relationship rumor's started after Dorcas Fapson also known as MS DSF shared some cute couple photos of her amd Skibi.
In the pictures she posted on her instagram story, they are both rocking matching designer outfits Fendi.
While Ms Dsf is known to hang out with some of the industry's biggest names including Wizkid, she has never shared it hinted or at romance with them.
This is why tons of Instagram users seem to agree that they just might be a thing.
In one of the pictures she shared, she wrote,
"E dey pain dem….e dey sweet us".
She also posted a video of what seems to be a luxury spa session. It seemed Skiibii had gone all out to pamper her.
She captioned the video with, "My baby said pamper day".
Let's recall that Dorcas Fapson has also been famously linked to Timini Egbuson but she has denied those rumors.
According to her, they are just best friends and those thinking a man and a woman cannot be best friends without sleeping with each other don't have self control.
Her post on Instagram read: "The fact that you guys cannot understand that a woman and man being best friends without sleeping with each other just shows you have no self control.
"I wonder if we would have this issue if we were both ugly."
She also disclosed that some guys are scared to talk to her because of Timini
The two recently unfollowed each other on instagram and of course people naturally believed that their friendship had ended.
Dorcas Fapson cleared the rumors quickly in a Q and A session where she revealed that her friendship with Timini is still waxing stronger by the day.
The fan asked : "Are you still cool with Timini or what asking respectfully"
She replied : "Cool like ice inna freezer".
Who is Dorcas Shola Fapson?
Dorcas Shola Fapson is a Nigerian actress and presenter, known for her role in MTV's Shuga as 'Sophie'.
She is also a social media personality and is majorly known by her instagram user name MS DSF.
She is the owner of black skin line a skin care company and is currently working on ways to put it on the international map.
Who is Skiibii Mayana
?
Skiibii is a talented Nigerian musician, composer and a recording artist. He was born Abbey Elias on July 5, 1992, in Lagos State, Nigeria, and he was also raised her in Lagos city.
His most famous song with Davido "Baddest Boy" has helped put him on the top trending afrobeat space.
We are keeping our fingers crossed and our eyes wide open for more romantic contents from this duo. We will be certain to update you.