Love Nwantiti – Ckay ft Joeboy; Love Is All I Have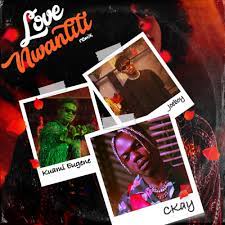 Talented Nigerian artist and a performer Ckay drops another banger titled "Love Nwantinti". This song is centered on love and affection, letting her know that all he has to give is his love for her, and tells her he will always be by her side at all times.
'Love Nwantinti' is a song by Chocolate City rapper and producer, Ckay.'Love Nwantinti' was released on August 31, 2019. The new single is lifted from his latest studio album – 'Ckay The First', an 8-tracked masterpiece. This infectious song is the second track off Ckay The First EP and was self-produced by Ckay.
Tu tu tu
Uh tu uh tu tu tu
Tu tu tu
Uh tu uh tu tu tu
Yeah
My baby, my Valentine (yeah)
Girl na you dey make my temperature dey rise
If you leave me, I go die, I swear
You are like the oxygen I need to survive
I'll be honest
Your loving dey totori me
I, I'm so obsessed
I want to chop your nkwobi
Unle, your body dey baka mi isi, unle
Open am make I see, unle
Gimme love nwantiti
LISTEN AND DOWNLOAD "LOVE NWANTITI" BY CKAY FT JOEBOY;