Feeling Down About Love, Listen To Jore – Adekule Gold Ft Kizz Daniel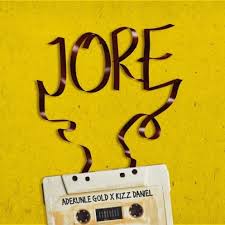 Nigerian afro-pop singer and songwriter, "Adekule gold", collaboration with Flyboi INC boss, "Kizz daniel" to produce their first single of the year titled, "Jore". The song emphasizes how one must feel (confession of love) and act toward your lover giving her everything she wants and would never compare her to anyone (assuring love).
Afro Urban Records chief, Adekunle Gold, and Flyboy INC general, Kizz Daniel collaborate on a new single titled 'Jore'. The record featured production from major Bangs and Pheelz.
Make I dey where you dey dey
Na where you dey dey dey make me dey happy
(Ah Jore Jore o Jore jore)
I'm falling for you, falling for you longtime yeh yeh yeh
(Ah Jore Jore o Jore jore)
Jore Jore jore jore jore
Wetin man go do I'm in love and I mumu
Jore Jore jore jore jore
Olayiwola Olayiwomolue
Jore Jore jore jore jore
Wetin man go do I'm in love and I mumu
Jore Jore jore jore jore
Olayiwola Olayiwo
Jore my life savings
Is for you is for you yeah yeah
(All for you Jore)
I made my choice baby
I'll live for you live for you yeah yeah
Jore jo jore jore o
Listen and download "Jore" by Adekule Gold;