Feel Alright – Davido Ft Ice Prince; Love Always Makes You Feel Alright.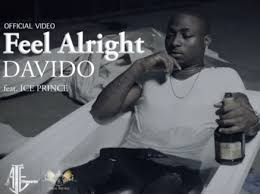 Davido, From his Omo Baba Olowo (OBO), comes through with an anticipated smashed masterpiece hit track which he tagged "Feel Alright" featuring ice prince.
This song talk's about two lovers always having to get into an argument all the time but the guy gets away from making it up to her by showing her love and doing anything for her. What are you willing to do to put an end to the argument. Also remember you don't always have to win all the arguments.
On the new track "Feel Alright " Davido calls on a Nigerian talented rapper who brings solidarity to the banging jam. Finally, the amazing tune "Feel Alright" is another hit track from Davido's debut studio album "Omo Baba Olowo (OBO)". Released 2011/2012.
Let me it get through
Gotta heart lady
And you all sexy ladies in the building
Let's go come on baby
You get it right you get right
Not e far from
It's Davido, ehh
Every time we fight about who is wrong or right
Pushing each other every day and night
Why can't we make things right
Pass me the, let me feel alright, let me feel alright
Pass me the, let me feel alright, let me feel alright
Pass me your love make I feel your life
No do me wrong, I go do you right
You no go ever leave me, na lie
I take you to paradise, to paradise
You left me alone, alone in the dark
I'm hungry for you love
Girl why, I'm so in love
E be like say you be dey plan for me
You dey plan for me
DOWNLOAD "FEEL ALRIGHT" BY DAVIDO;